All of a sudden an unexpected thing happened. It was last week when I got the invitation for MozDelhi. My parents were not convinced to send me alone to Delhi 😀 However, everything was sorted out and next week I took flight from Chandigarh International Airport to Delhi. After travelling and struggling with flu, I reached South Delhi. Thank you Santosh for finding that hotel, it was really an achievement lol 😀 After reaching the hotel, I came to know that many invitees were not coming 😦 Staying optimistic, we made our schedules and it was an opportunity for me to be part of this awesomeness.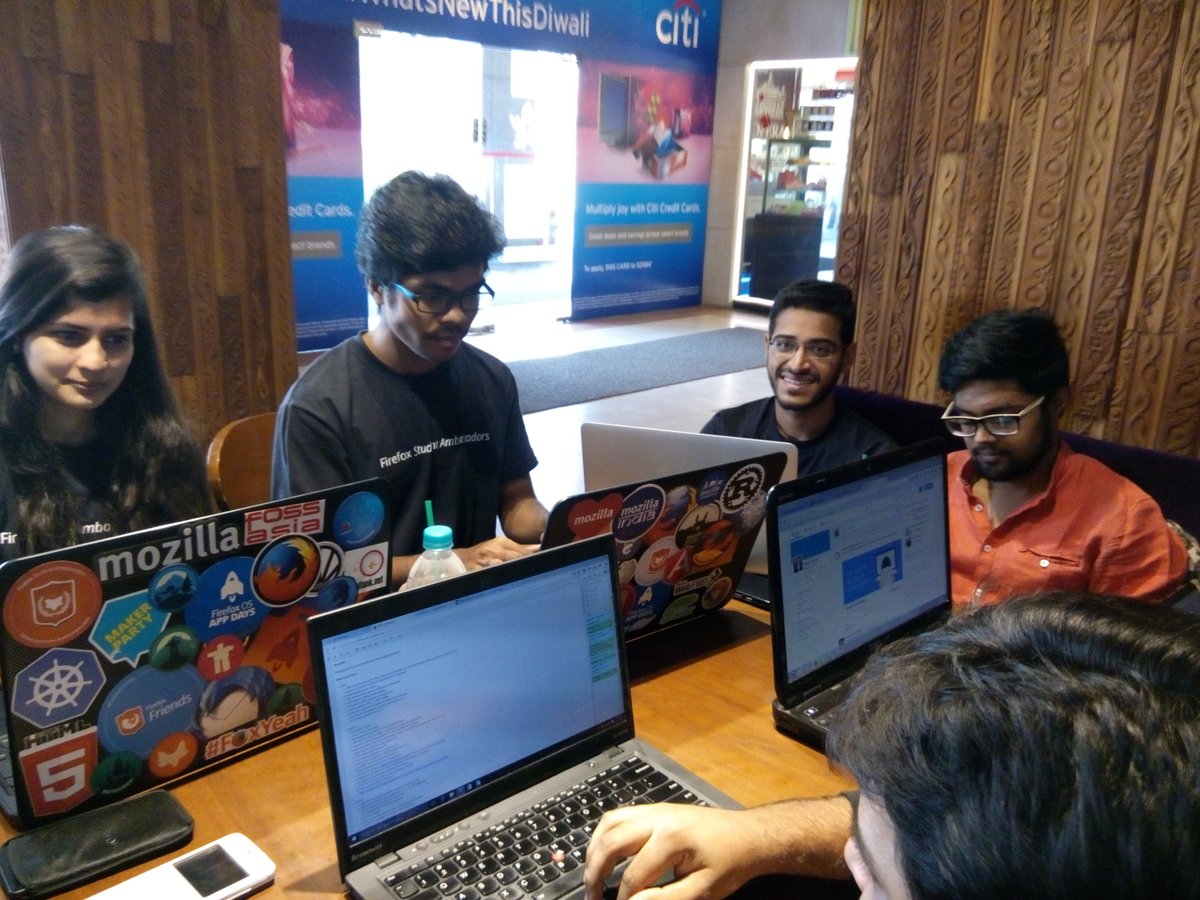 Agenda for the meetup:
Intro of Everyone about their Contribution areas,What have they done so far, who is mentoring them,what would they like to do later 
Sharing their Mozilla Stories
SWOT Analysis about Regional Community Development

 Strengths in the FSA Program

 Weakness in the FSA Program

 Opportunities in the FSA Program

 Threats in the FSA Program
Getting FSA Perspective about Why to Join FSA Program?/ What Do I Get?/ Benefits of Getting Involved 

Questions to be answered:

One thing you are proud of contributing to mozilla.

One thing you like in the community

Major challenge for you faced so far in contributing to mozilla.

What is your one goal in the upcoming days
DAY 1:
At 10 am, Tanay Pant joined me and Santosh Viswanatham (Organizer of this meetup) at Starbucks. After the arrival of Sanyam and Yash, we came to know that rest of the Delhi community would be joining us on Day 2 due to  exams. So, we started with coffee and lots of tweets, as I caught flu, I took hot caramel. Mozilla Representative Santosh shared his valuable suggestions and also his thoughts on how to keep the things focused and how to be make events more productive and Tanay added his thoughts to it.
All the contributors were connected online to our etherpad (here). We started with introductions  and our stories. Since we (Sanyam, Yash and me) were FSA's, it was inspiring to hear stories of Tanay and Santosh as both are E-Board members. In this way we came across each other's stories and Yash got the name of "Questioning Boy" .lolz 😀 We shared stories in etherpad and then we moved to SWOT analysis. The strenghts were so far clear to everyone but weaknesses were also present. The best part was instead of concentrating on weaknesses everyone were focused on solutions.    After a long discussion and my struggle with bad flu , we went for pizza at Dominos where we had a chance to get to know each other and share our ideas/contribution pathways.
DAY2:
After a good medication, I was feeling better :p  and as soon as sun was at top we reached Starbucks where the Agenda was scheduled. I met Ajay , Anoop, Tanshul, Kunal, Bhuvnesh and Pushpin. Ajay Singhi is an alumni of my college So, I was very excited to meet him .I attended my first event in DeshBhagat of Ajay and Anoop. My energy level was very high after having a conversation with them.
With positive energy, everyone introduced themselves. I was so glad to meet everyone. After introduction we  started with Why you joined Mozilla? We told the reason and tweeted it using #FSADreamTeam and @mozstudents.
Why to Join FSA Program?/ What Do I Get?/ Benefits of Getting Involved? A long discussion led to the path where we found what were the expectations of FSAs, how we should encourage more people to join mozilla as student ambassadors from different colleges and promote open web.
Since, it was 2:45PM everyone seemed to be hungry but we could see the consistent passion on everyone's face.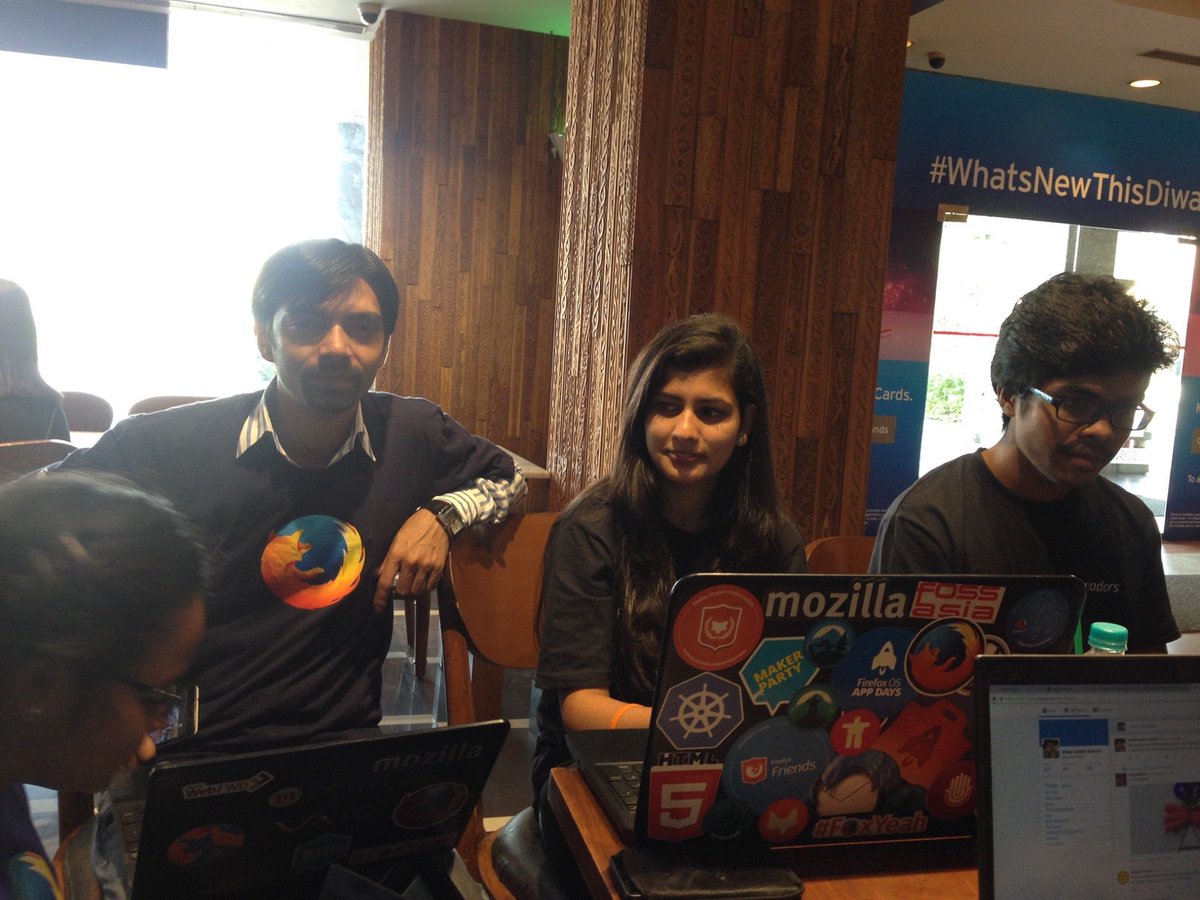 As per planning, there were many things to discuss but time was flying by. But we wrapped up our schedule with many new things and ways to be  the #FSADreamTeam. We all had lunch together and I got time to know more  about them and Kunal got time for his jokes.
I really enjoyed this event and I guess I forgot to write about love of Tanay for sugar!!! Best part ever! :p Overall, I am lucky to be a part of this meetup as I got chance to meet the community members from Mozpacers Delhi. Thank you !!
Missed you Shivika ,Jyotsna ,Vnisha !!! 😛 Wish we'll meet soon and see our  initiative spread everywhere.
A must group pic!!!